VOLCANO RELIEF
Nine Years of Making a Big Difference in a Small Island
In these nine years Action Bequia has raised more than EC$4 million (US$1.5 million) from its very generous supporters. Less than 2% is spent on administration. Your donations will continue to find a valuable home. Thank you.
Latest Updates

Here's the charming new Action Bequia video (written, produced and directed by John Burstein) which is an important part of the schools and youth focus of our 2020 environmental programme. Aimed at 5 to 12 year olds, it has already been widely praised as a highly effective way of motivating young people to care for their environment... and to consider what they personally can do to make things better.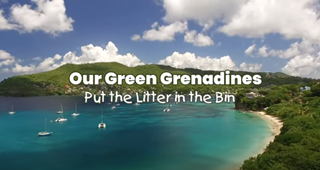 The latest CEO's Report, for 2019, has now been published: Action Bequia CEO Report 2019.

The Environmental/Recycling programme and maintaining the trails and walkways from a safety and cleanliness standpoint will continue to be our top priorities, but we will attempt to address some other issues such as the harbour drains and boats anchoring too close to shore.

The proceeds of Action Bequia's 2020 Annual Fund Raising Gala and Raffle went to other organisations we support as shown on the results summary. When designated 'General Funds' it will continue to go our core goals of:
Recycling/Environment;
Trail and Walkway Maintenance;
Harbour Beautification (including installing a visual barrier of yellow buoys to stop boats anchoring too close to Princess Margaret Beach); and
Pandemic Relief: Given the importance of the Pandemic to Bequia and SVG as a whole, we are looking at how best we can provide help to reduce the impact in any way.
Projects Financed and Managed by Action Bequia
(Click on picture for project details)
Check us out on Facebook...
...by scrolling or clicking below
Actions Speak Louder Than Words