Ten Years of Making a Big Difference in a Small Island
In these ten years Action Bequia has raised more than US$2.5 million from its very generous supporters. Less than 2% of your donations is spent on administration. Our aim is to help maintain and even improve Bequia as a place to live, work and visit. To achieve this aim we have focused on the Environment, Infrastructure and Critical Social Needs. The last 18 months have been a little unusual to say the least and our efforts have been divided between the Normal and the Abnormal.
The "Abnormal"
Soufriere's Volcanic Eruption
Since the evacuation order issued on 8th April 2021 due to Soufriere's unexpected eruption, Action Bequia, starting just a day later, has been helping with the critical needs of people forced to evacuate their homes and move to shelters. To optimise the impact of our efforts, we have selected a number of partners on the mainland that we felt were best placed to spot where the needs are greatest and may have been overlooked by other charities. Things like a quick reaction to requests for meals for returning students and people in small and almost forgotten shelters. And of course, food vouchers, toiletries, hand sanitisers, face masks, mops, brooms, cots, mattresses and sheets. All these were, and continue to be, funded by our ability to be creative and quick in our response.

On Bequia itself we have passed on significant funds to 'Rise Up Bequia' who have organised impressive on the ground efforts to help those most affected, especially those evacuees who have come to Bequia for the support they seek from family and friends here. Other examples of our efforts include funding the distribution of 82,000 gallons of emergency drinking water generously supplied by the Mustique Company and financing the shipment and receipt of fifteen barrels of relief supplies from Canada.

The devastating effects of this natural disaster will be with us for a long time. With your continued help, we will be in a good position to offer the future support needed.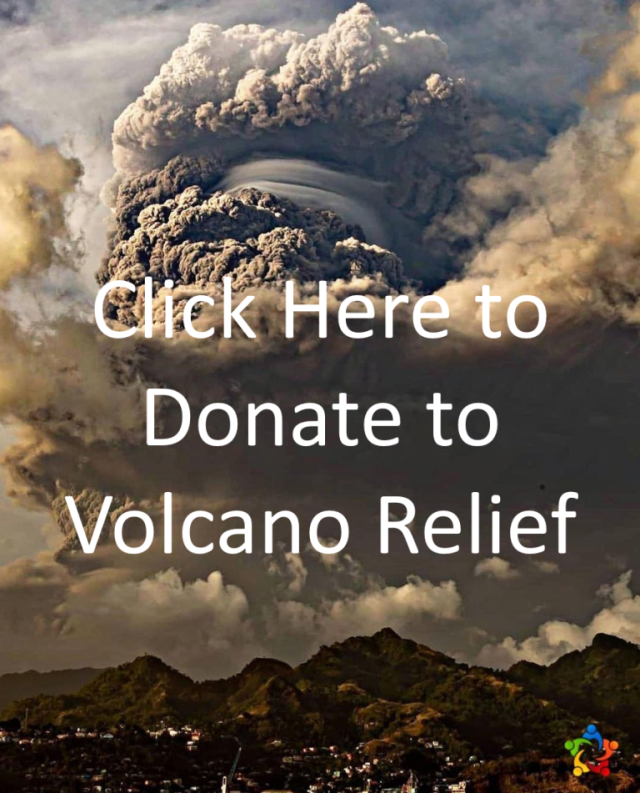 Covid-19
In April of 2020 Action Bequia sourced full sets of medical PPE equipment (face shields, masks, gowns, hoods, goggles, glasses and shoes) and hundreds of temperature 'guns' which were supplied to the SVG Ministry of Health, the Bequia Hospital and health clinics on the island, staff at front line businesses such as the Revenue Office, Police stations, Tourism office, churches, supermarkets etc.
Later in the Pandemic cycle, Action Bequia attempted to source vaccines but failed. Vaccines were eventually sourced by the SVG Government as a result of donations which originated largely from The Serum Institute of India (an Astra Zeneca licensee). We did provide funding for two videos produced by John Burstein and designed to encourage the uptake of these vaccines. These can be seen by clicking on the links below. They are certainly worth watching.

1. Vincy Nation Vaccination - A dynamic two-minute music video promoting vaccinations: Vincy Nation Vaccination Video.

2. Vincy Vax Facts - Three minutes of animated information which answers many of the questions reluctant citizens of SVG may have: Vincy Vax Facts Video.


The "Normal"
The Environment
Action Bequia Recycling Program
Started in 2016, this programme has resulted in more than 3 million plastic and metal drink containers being recycled. Glass is also recycled by crushing to make aggregate for concrete or exported to Trinidad for use by a bottle maker. Today, we have a recycling centre that employs nine Bequians including two drivers for our two trucks which enable seven days per week collections.
The Schools Environmental Programme
This programme enhances environmental awareness through education, awards for outstanding performance and participation in clean ups. The "Our Green Grenadines" video produced by John Burstein is brilliant. Please watch it:
Coral Damage Limitation
The project to sink substantial mooring blocks at each of Bequia's six dive sites, so that yachts and dive boats won't drop their own anchors and mash up the corals below. Due for completion in September/October 2021.


The Water for Homes Project
In May of this year Action Bequia received a grant of US$150,000 to fund an effort to provide water supplies to Bequia homes that are the neediest. This involves building a concrete base, then installing water tanks and the necessary gutters and pipes to get the rainwater from roofs into and out of those tanks.

This grant was made through the Community Foundation for SVG (CFSVG) and the funds originated from the CWD3 Fund at the Coastal Community Foundation of South Carolina.

The choice of homes is critical and the process is underway and ongoing. The final choices are made by the members of Action Bequia's Board, which is 100% made up of locals. The bases of the first ten installations have just been completed. It is anticipated that at least one hundred total installations will be made.


Walkways, Trails and Harbour Beautification
This is the area that Action Bequia started from in 2012 when we rebuilt a dangerous and, then, difficult to navigate Belmont Walkway, later extending it with Trails around the headland from Plantation to Princess Margaret and then from Princess Margaret to the Lower Bay Road. The Harbour Beautification was also a fundamental element of this project.

We are very proud of the impact of this effort and it continues to be a very important part of our remit. The trails and walkways require regular inspection and frequent repair and maintenance. The route from Princess Margaret to Lower Bay has been rebuilt this year (2021) and maintenance and cleaning of the Harbour Drains is virtually a daily effort (we are actually attempting to improve the functionality of those drains to reduce the build-up of putrid water).

We also have plans to deploy a barrier of yellow (no boat) buoys across Princess Margaret Beach to stop boats anchoring unnecessarily close in, polluting the water and endangering swimmers (awaiting Government approval).


Action Bequia's support of other organisations
'Pass Through Funds' to other Bequia-based charitable organisations amount to over US$70,000 during the past twelve months, and include:
Rise Up Bequia, our most important Volcano Relief partner.
Hub Collective, an essential Cultural contributor on Bequia.
Rotary Medical Relief Fund.
Junior Sailing Academy Bequia.
Bequia Youth Sailors.
The Sunshine School for Special Needs.
The Learning Centre.
Grenadines Initiative.
BAPA (Bequia Animal Protection).
Friends of Bequia Hospital.
Action Bequia will continue to use your donations wisely and responsibly. And, if you want to donate to others through us, the buttons on the 'Donate Now' page provide the flexibility to choose which cause your donation goes to.
Projects Financed and Managed by Action Bequia
(Click on any picture for a wealth of historical details about each project)
Check us out on Facebook...
...by scrolling or clicking below
Actions Speak Louder Than Words